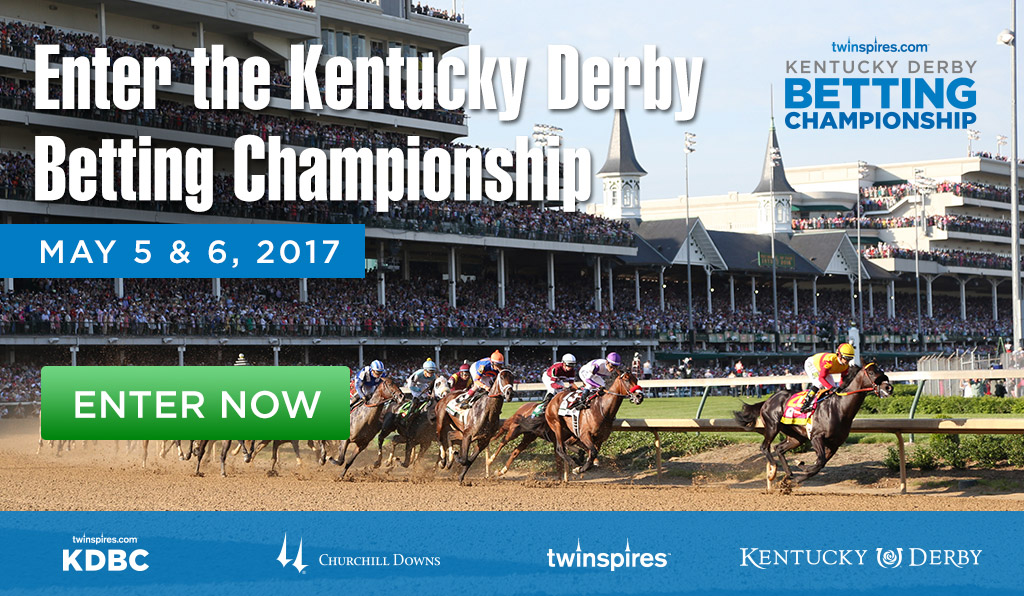 2017 marks the second  Kentucky Derby Betting Championship, pitting the best horse racing bettors in the world against each other, as they compete for an estimated $300,000 in prizes (based on 75 entries).
CHANGES FOR 2017 KDBC:
Players may compete at Churchill Downs or online at TwinSpiresTournaments.com
The new buy in is $12,000 with $8,000 as the player bankroll and $4,000 entry fee
ALL entry fees are paid to the prize pool
Players may purchase and play up to two (2) entries
Estimated prize pool is $300,000 based on 75 entries
5 Breeders' Cup Betting Challenge Seats (BCBC) and 2 National Handicapping Championship (NHC) Seats
There will be a $1 Million Bonus* awarded to any player who wins both the 2017 KDBC and 2017 Breeders' Cup Betting Challenge
Players who buy in for $12,000 and wish to play on-track will be given complimentary admission and seating for one (1) in The Lounge at Aristides, on both Kentucky Derby and Oaks Days.
On-track seating is limited and may be reserved in advance with a $500 deposit.
On-track players who wish to bring a guest may purchase an additional seat at a discounted price of $725.
Seating includes food and beverages, plus admission to the TwinSpires VIP Party in the Mansion on Thursday, May 4.
Play begins on May 5 & 6 from Churchill Downs, during the 143rd Kentucky Oaks & Derby. Reserve your spot with a $500 deposit.
Churchill Downs Race Track is the home of the 2017 Kentucky Derby Betting Championship. ENTER NOW!
 *$1,000,000 bonus paid in  a forty (40) year annuity that pays out $25,000 per year for forty (40) years without interest; or a lump sum cash payment of $600,000. Bonus is void if the Breeders' Cup Betting Challenge records 350 or fewer entries.